Virtual Painting with John David Anderson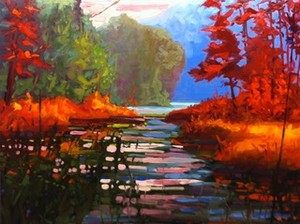 Virtual 5 Week Session – Tuesdays 6:30 pm – 9:00 pm
*Please note* Start date moved to Sept 14 th
Tuesday, September 7 – Day 1- How to take a good photo to a great painting.
We will do a number of shape, colour & value analysis of a large photo. You will learn how to pull the best compositional idea from it, and complete a successful painting.
Tuesday, September 14 – Day 2 – Hollyhocks in bloom.
We will explore an image of a large stand of Hollyhocks, and build a method of simplifying some elements, and empowering others to produce an effective portrait of the hollyhocks.
Tuesday, September 21 – Day 3 – Atmospheric perspective in Painting – getting the most of the blues.
By the effective use of value and temperature we will create great depth into a painting. We will be creating intervals of atmosphere and space deep into the image.
Tuesday October 5 – Day 4- Using edges, and contrast to create a powerful painting.
How to maximize the various tools of contrast, value, temperature and colour along with appropriate use of edges to produce a canvas with captivating power.
Tuesday October 26 – Day 5- Painting alla prima portrait. Tuesday October 26
Using a very simple colour palette we will learn the steps to an impressionist portrait in one session.
Read More About John David Anderson
Price: $130.00 member, $145.00 non-members