Stronger Landscape Paintings with Brian Buckrell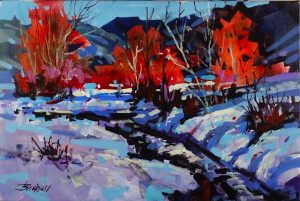 Virtual 6 Week Session – Thursdays 6:30 pm – 9:30 pm
Thursday, October 28 – Thursday, December 2
Stronger Landscape Paintings is a Zoom workshop designed for those with a basic to intermediate level of experience and knowledge -it is not suitable for the beginner painter. The course will be offered once weekly ( Thursday evenings ) for six weeks beginning Oct 28.
Weekly sessions will be joined together with a dedicated Facebook Group for sharing paintings for comment and a site for providing additional information.
Each session will be three hours and will begin with a presentation on the topic of the day.
Week one will focus on working with acrylics and planning, including the use of software, and the first demo.
Subsequent weeks will focus on values, working with colour, perspective and composition.
All demos will be done in acrylics but the principles taught are universal to all mediums. Lots of work, lots of fun.
Weeks 1 & 2 – working with acrylics, planning and values
Weeks 3 & 4 – colour
Weeks 5 & 6 – composition
Read More About Brian Buckrell
Price: $220.00 member, $250.00 non-members