Upcoming Events
THE MILL POND GALLERY IS CURRENTLY CLOSED.
The Mill Pond Gallery will reopen once Ontario Covid Restrictions allow.
Please check back for more details.
Virtual Gallery Show

---
Passion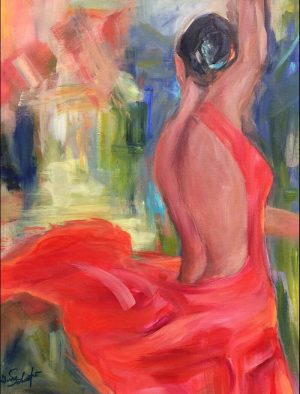 March/April 2021
"You were once wild here. Don't let them tame you."
— Pioneer of modern dance, Isadora Duncan.
This quote guided our members in their choice of artwork to submit for this RHGA Member Virtual Gallery Show. What a wonderful variety of themes and subject matter this quote has inspired. Do you find your passion among this selection?
Enjoy!
We will feature work from this show on our Social Media platforms in the coming weeks, and the complete show can be viewed on our website.
All artwork can be purchased by visiting the "Shop RHGA" page and selecting "Art Sales"
Virtual Demo Evenings
---
Painting the Pandemic Experience with Gerthe Jensen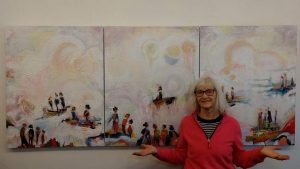 Virtual Demo Evening
Monday, May 3 – 7:00 pm to 9:00 pm
The times that we are living through will feature in history; COVID will be written about and talked about for years to come. We have all been impacted. How is your pandemic experience influencing your artwork? Are your emotions and feelings running high? Are you expressing them in your artwork?
In this presentation Grethe Jensen will show you her Pandemic painting story. Expressing feelings, emotions, the very essence of being, has always been the core of her artwork, and the heightened levels of "everything" during the past year has left her feeling that there is much that needs to be said – and expressed – in the studio. She will talk about her inspirations, processes, and tools while sharing her artwork with you.
Teaching and learning has also changed in the past year. Using video and sound technology, along with the connectivity provided by ZOOM and the internet, she has continued to foster creative development in her students. Hear how the pandemic changed her approach to teaching, and how technology has enabled ongoing sharing and connection among her students.
Grethe Jensen is a Toronto based artist and arts educator.
Still Life – Floral painting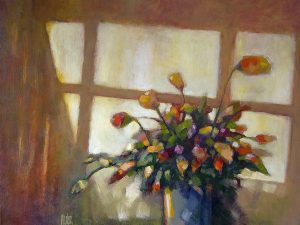 Virtual Demo Evening
Monday, June 7 – 7:00 pm to 9:00 pm
One flower garden was a special place to escape into endless hours of drawing in my youth. When I started to paint, I was drawn to a small town scenery and figurative. Only after my seven years of instructing Colour Theory, I returned to the stimulating vibrancy of flowers.
Their bold and graceful shapes are very personal to me. They reveal their fascinating radiance when seen in an eclectic and semi-abstract way.
Born and raised in Europe, Vladan made Toronto home in 1993.
Vlad has been painting Fine Art, portraiture, murals, animation backgrounds, and comics.
He had numerous solo shows in Toronto, Calgary, York (UK), Columbia (SC), and Palm Beach Gardens (FL).
Since 2009 he has also instructed in Painting, Colour Theory, Perspective, and Photoshop.
Read more about Vladan Ignatovic
Sell your art online!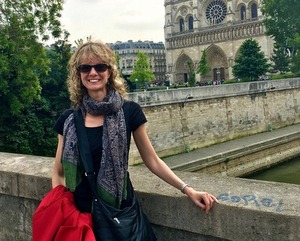 Virtual Demo Evening
Monday, July 5 – 7:00 pm to 9:00 pm
In this 2-hour talk, Jamie will introduce some of her best strategies and tips for selling art online. Topics will include: building sales through e-commerce and social media, pricing original art, branding for artists, and taking an "ecosystem" approach to your artistic practices. Artists of all experience-levels are welcome, including those who are just starting to think about selling their work.
Dr. Jamie Kemp is an award-winning arts coach, consultant, and Professor of Art History and Visual Studies at Quest University Canada in Squamish, BC.
Through her arts consulting business, myartspeak.com, she advises artists who work in every medium and at every skill level. She uses her expert knowledge of the arts, technical skills, experiences in arts administration, and the tools of coaching to empower artists. Among other things, she loves to help artists sell their work, apply for grants and residencies, build e-commerce websites, develop social media skills, set goals for their business and artistic practice, and share what they know through online and in-person workshops.

Weekly Events
Member Open Studio
Gallery Currently Closed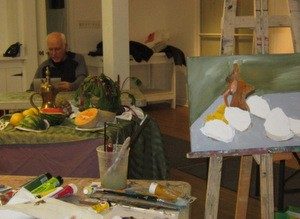 All members are welcome to come in and paint in our bright studio/workshop space during our Member Open Studio days. Please contact us if you would like to learn how to open/close the gallery. Enjoy creating in an informal and supportive environment.
Please note: Open Studio is not available on Monday evenings when a Demo/Artist talk is scheduled. Check our Calendar of Events for dates.
Please check the Calendar of Events for Paint-In dates
Non-Instructional Figure Drawing – All Welcome!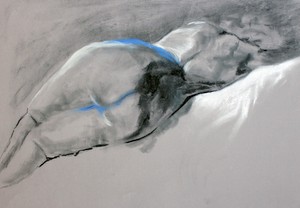 POSTPONED UNTIL FURTHER NOTICE
Life drawing or figure drawing has always been the backbone of any artistic training and is the ultimate way to improve your hand to eye coordination. These are non-instructional sessions from a nude model. Poses will range from short to long and participants bring their own materials. What can be a better way to wrap up the week then in a company of your fellow artists, refreshments and making art inspired by human form!
Members $15/session, Non-Members $20/session