Upcoming Events
COVID19 protocols are in place at the Mill Pond Gallery to ensure the safety of our RHGA membership, teachers, students and guests. Everyone entering the building must sanitize their hands, wear a mask, maintain physical distancing, sign our Contact Tracing log and adhere to the room capacities posted for each room.
Live @ The Mill Pond Gallery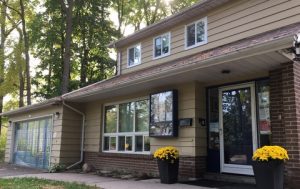 Saturday, September 26 to Sunday November 1
Welcome back to the Mill Pond Gallery!
The Richmond Hill Group of Artists are opening their doors this weekend. Come in person to see our first 'Live' show. Original artwork is on exhibit and for sale, featuring a variety of themes, mediums and styles.
Our small venue is ideal for an outing, with COVID-19 protocols in place to keep us all safe.
All are welcome!
Gallery Hours – Saturdays and Sundays from 11:00 am to 5:00 pm
Perspective for Strong Landscape Paintings with Brian Buckrell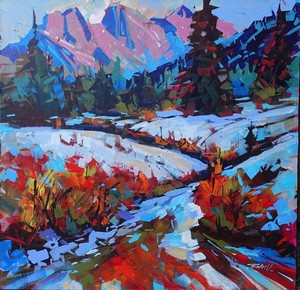 Virtual Workshop Series
Friday, October 23 – 5:00 pm to 7:30 pm
Saturday, October 24 – 12:00 pm to 3:30 pm
Sunday, October 25 – 12:00 pm to 3:30 pm
Perspective is one of the fundamentals essential for strong landscape paintings. Yet many developing artists fail to include it, even avoid it, in their learning. During the three-day three-hour Zoom presentations, this workshop will develop our understanding of both linear and a real perspective using Powerpoint presentations, exercises, and demonstrations. Participants will be able to submit questions for discussion. It is hoped that participants will work on the references provided following the workshop and will, if they wish, submit them to a closed Facebook Group for discussion and critique.
Please visit Brian's website to read about him and see more of his work!
Weekly Events
Member Open Studio
Monday Daytime and Evening, Friday Daytime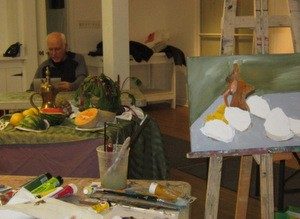 All members are welcome to come in and paint in our bright studio/workshop space during our Member Open Studio days. Please contact us if you would like to learn how to open/close the gallery. Enjoy creating in an informal and supportive environment.
Please note: Open Studio is not available on Monday evenings when a Demo/Artist talk is scheduled. Check our Calendar of Events for dates.
Please check the Calendar of Events for Paint-In dates
Non-Instructional Figure Drawing – All Welcome!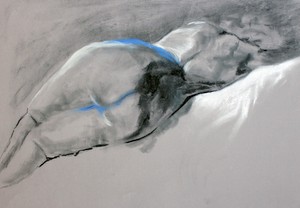 POSTPONED UNTIL FURTHER NOTICE
Life drawing or figure drawing has always been the backbone of any artistic training and is the ultimate way to improve your hand to eye coordination. These are non-instructional sessions from a nude model. Poses will range from short to long and participants bring their own materials. What can be a better way to wrap up the week then in a company of your fellow artists, refreshments and making art inspired by human form!
Members $15/session, Non-Members $20/session