Upcoming Events
Summer Artists in Residence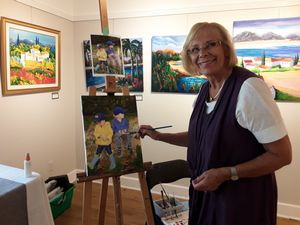 July and August
Throughout the summer our members will be at the Mill Pond Gallery working on original artwork in a variety of mediums, styles and subject matter. New artists will begin a one week residency each Friday. The gallery will remain open late on Thursday evening, to coincide with the Town of Richmond Hill's Concert in the Park Series. Visit often to see their works in progress and complete pieces on the gallery walls.
Summer Gallery Hours:
Saturday & Sunday – 12:00 pm to 5:00 pm
Tuesday, Wednesday, Thursday* & Friday – 1:00 pm to 8:00 pm
*Thursday evening the gallery will remain open for Concert goers.
Welcome Back ! – Photographing Your Artwork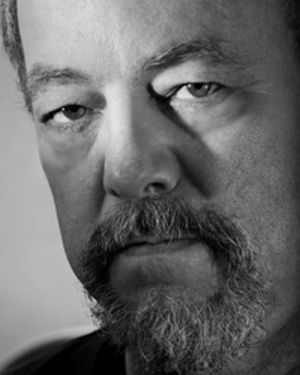 Monday, September 10 – 7:00 pm to 9:00 pm
Our Welcome back meeting features Ian McIntosh. Ian will show you how to vastly improve the quality of the images you create of your artwork whether you use a smartphone, point and shoot, DSLR or mirrorless camera. Ian will discuss the basics of camera settings, lighting, framing, white balance / colour temperature and editing. He'll also provide information on overcoming challenges of 2 dimensional and 3 dimensional art, dealing with reflective surfaces, such as glass metal and other glossy surfaces, as well as working with large and small artwork.Ian McIntosh is a professional photographer, based in Barrie Ontario. Ian loves to capture the world around him in and present his images in intriguing and challenging ways. In addition to his fine art images, Ian loves photographing other artists' work. Because of the wide variety of media, finishes and textures, each art reproduction session presents a new challenge in technique and creativity in order to highlight the essence of each individual piece. In addition to being behind the camera, Ian facilitates workshops and presents on a number of photography subjects, including showing artists how to photograph their own work.
16th Annual Studio Tour and Art Show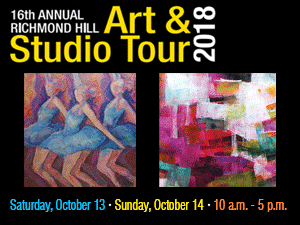 Friday, October 12 to Sunday, October 14
The RHGA is a proud sponsor of Richmond Hill's 16th Annual Art & Studio Tour. With over 46 artists at 18 locations (9 community spaces and 9 Artist's Studios) the tour showcases some of Canada's most impressive works of art!
The Mill Pond Gallery will showcase the work of 5 of our talented members. Several more members will be participating in this year's tour opening their home studios or showing at other community venues.
What a great opportunity for residents of the Town of Richmond and surrounding communities to take the tour, meet the artists and purchase one-of-a-kind works of art!
40th RHGA 'ROSE' PROJECT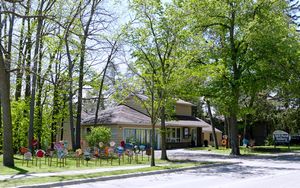 May to September
To celebrate the 40th anniversary of the RHGA, our members have turned to the historic Richmond Hill Rose industry for inspiration! Over 40 wood cut outs of roses have been painted, carved and /or decorated.
They will be 'planted' outside our gallery and remain until September, a beautiful garden of original art to be enjoyed throughout the summer!
Would you like one for your garden? Join us Sunday, September 30 for our closing reception and silent auction!
*This project is funded in part by the Town of Richmond Hill's Community and Culture Grant Program*
Weekly Events
*New* Non-Instructional Figure Drawing – All Welcome!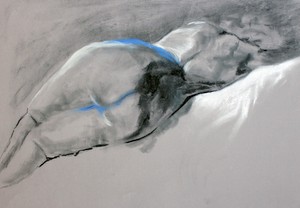 Sundays 6:00 pm to 9:00 pm
Life drawing or figure drawing has always been the backbone of any artistic training and is the ultimate way to improve your hand to eye coordination. These are non-instructional sessions from a nude model. Poses will range from short to long and participants bring their own materials. What can be a better way to wrap up the week then in a company of your fellow artists, refreshments and making art inspired by human form!
Members $15/session, Non-Members $20/session
Member Open Studio
Mondays 9:00 am – 9:00 pm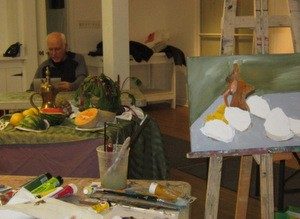 Fridays 9:00 am to 4:00 pm
All members are welcome to come in and paint in our bright studio/workshop space during our Member Open Studio days. Please contact us if you would like to learn how to open/close the gallery. Enjoy creating in an informal and supportive environment.
Please note: Open Studio is not available on Monday evenings when a Demo/Artist talk is scheduled. Check our Calendar of Events for dates.