*THE MILL POND GALLERY IS CLOSED TO THE PUBLIC AND TO MEMBERS FROM JANUARY 5 – JANUARY 26, 2022 AS PER ONTARIO'S MODIFIED PHASE 2 REQUIREMENTS.
Proof of full COVID 19 Vaccination is required for all 12 years and older to enter the Mill Pond Gallery.
The RHGA is a tenant of the City of Richmond and is required to follow this City of Richmond Hill policy.
Upcoming Events
---
Virtual Gallery Show
HOME – The connection between…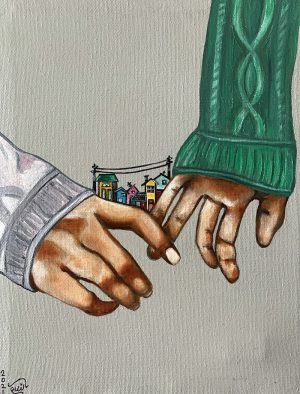 November/December/January
As we journey through life we choose our destination, other times it chooses us.
We asked our members to use the above statement to inspire their submissions. They have interpreted our theme in so many creative and thoughtful ways. This fabulous virtual show features a large variety of original artwork in many styles.
Enjoy!
You can view all the work in this show by clicking on the "HOME- A connection between" link below.
All artwork can be purchased by visiting the "Shop RHGA" page and selecting "Art Sales"
---
Painting Ice, Snow And Rocks In Acrylics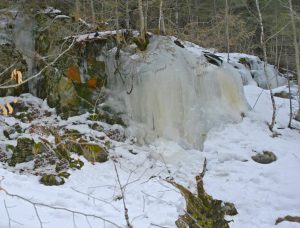 Virtual Demo Evening – Monday, February 7 – 7:00 pm to 9:00 pm
Virtual Workshop – Thursday, February 17th, and Thursday, February 24th – 9:00 am to 12:00 pm
Join artist Andrew Cheddie Sookrah for an exciting exploration of the colour, form, structure, depth and texture found in ice, snow & rocks and their interconnected relationship with each other and the surroundings they are in.
Leveraging the attributes of this versatile medium while working from a supplied reference image, continue your exploration of how to observe, interpret and move beyond the obvious to develop a vibrant painting in your own voice, using confident and informed brushstrokes.
Refine your ability to create impactful design and composition, extracting only necessary information from your reference.
Working from one of Andrew's images taken on his extensive travels to Algonquin Park, (Ragged Falls) you will create a painting with that WOW factor… Both his demo and workshop will use the same image. (Image is pictured above)
Basic drawing techniques, perspective, composition, colour, texture, use of material will be explored.
The following is a suggested plan for our two-session workshop; this outline could be changed to accommodate your wishes for individual outcomes.
Andrew will be providing constant support and guidance for the entirety of our workshop.
Read about Andrew Cheddie Sookrah
Price: $60 members, $70 non-members

---
In Person Classes for Adults and Children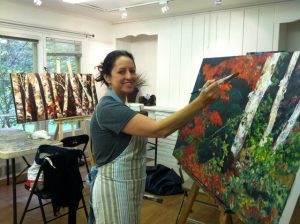 On Hold – Please Inquire
We are offering a number of in-person classes starting in September. All medium are offered for Adults as well as After School and Saturday classes for Children. Visit our Art Classes page for complete program information and our Calendar of Events page for time and dates.
---
Weekly Events
Member Open Studio
Mondays and Fridays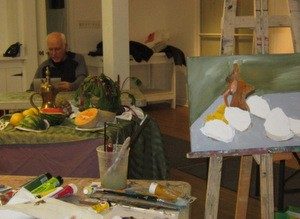 All members are welcome to come in and paint in our bright studio/workshop space during our Member Open Studio days. Please contact us if you would like to learn how to open/close the gallery. Enjoy creating in an informal and supportive environment.
Please check the Calendar of Events for Paint-In dates
Non-Instructional Figure Drawing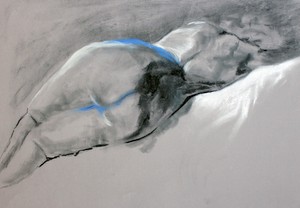 Tuesdays – 5 week sessions
Life drawing or figure drawing has always been the backbone of any artistic training and is the ultimate way to improve your hand to eye coordination. These are non-instructional sessions from a nude or clothed model. Poses will range from short to long and participants bring their own materials. What can be a better way to wrap up the week then in a company of your fellow artists, refreshments and making art inspired by human form!