Upcoming Events
40th RHGA Member Juried Show and Sale
Friday, April 6 to Sunday, April 15
Join the Richmond Hill Group of Artists at the Mill Pond Gallery as we celebrated 40 years! The gallery will showcase the best original artwork by our talented members.
All are welcome to join us on Friday, April 6 from 7:00 pm to 9:00 pm for our Opening Night and Awards Ceremony. Help select the People's Choice Award with your ballot. There is never an admission fee, plenty of free parking and refreshments served.
Gallery Hours: Saturdays and Sundays, 11:00 am to 5:00 pm

Abstract Landscape with Mira Martinez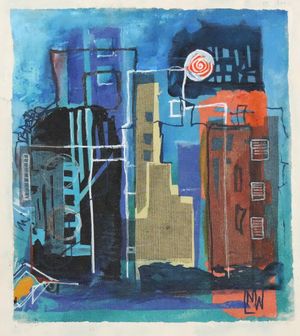 Demo – Monday, April 16 – 7:00 pm to 9:00 pm

Landscape has been always a major theme in art, whether confined to the background of a portrait or wide-open with dramatic mountains, rivers, dunes or vegetation.
The artistic definition of Landscape was challenged in the twentieth century when urban and industrial cityscapes were part of the scenery, then becoming a new definition: Cityscape and Urban Landscape.
How to integrate land and city?
An easy demonstration on cityscapes and landscapes combined.
How to juxtapose or invert the priority of this two themes in which we are also participants and actors
Creating different urban moods.
Weekly Events
Member Open Studio
Mondays 9:00 am – 9:00 pm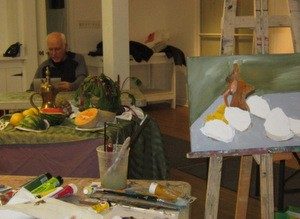 Fridays 9:00 am to 4:00 pm
All members are welcome to come in and paint in our bright studio/workshop space during our Member Open Studio days. Please contact us if you would like to learn how to open/close the gallery. Enjoy creating in an informal and supportive environment.
Please note: Open Studio is not available on Monday evenings when a Demo/Artist talk is scheduled. Check our Calendar of Events for dates.