Upcoming Events

41 RHGA Member Juried Art Exhibit and Sale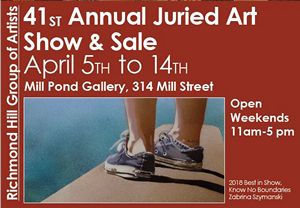 Opening Night Ceremony – Friday, April 5 – 7:00 pm to 9:00 pm
This annual juried exhibit and sale features beautiful original artwork in a variety of medium, theme and styles. Our jurors, Cathy Boyd and Jeanette Luchese will join us for the Awards Ceremony. You are invited to help select the People's Choice Award with your ballot. Refreshments served, no admission fee and all are most welcome!
Show Dates:
Saturday and Sunday, April 6 & 7 – 11:00 am to 5:00 pm
Saturday and Sunday, April 13 & 14 – 11:00 am to 5:00 pm
Watercolour with Momin Khan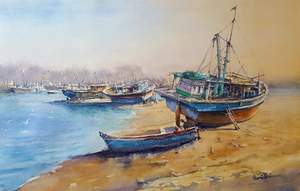 Workshop – Sunday, April 14 – 9:30 am to 3:30 am
Momin works primarily in watercolours and acrylic, he uses watercolour in his paintings to capture light, softness and vibrancy. Momin is never found without a sketch book in hand so he is constantly drawing, and later develops his sketches into more in-depth ideas and detailed images.
Momin works quite deliberately, consciously employing both traditional and innovative techniques
Momin uses watercolour in a loose and flowing style. He like to see energy and movement in my paintings.
To register please contact our Workshop Coordinator Mary Espinosa
maryesp28@yahoo.com
Weekly Events
Non-Instructional Figure Drawing – All Welcome!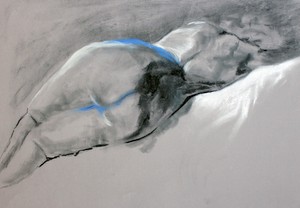 Sundays 6:00 pm to 9:00 pm
Life drawing or figure drawing has always been the backbone of any artistic training and is the ultimate way to improve your hand to eye coordination. These are non-instructional sessions from a nude model. Poses will range from short to long and participants bring their own materials. What can be a better way to wrap up the week then in a company of your fellow artists, refreshments and making art inspired by human form!
Members $15/session, Non-Members $20/session
Member Open Studio
Mondays 9:00 am – 9:00 pm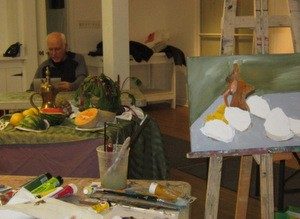 Fridays 9:00 am to 4:00 pm
All members are welcome to come in and paint in our bright studio/workshop space during our Member Open Studio days. Please contact us if you would like to learn how to open/close the gallery. Enjoy creating in an informal and supportive environment.
Please note: Open Studio is not available on Monday evenings when a Demo/Artist talk is scheduled. Check our Calendar of Events for dates.