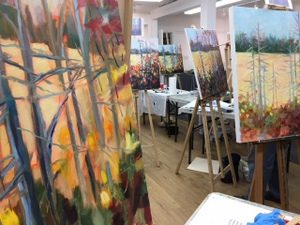 Join us once a month for a demo from a visiting artist and sign up for the full day Sunday workshop to learn how to apply the techniques to your own artwork.
Monday Evening Demos: FREE for members, $5 non-members
Full day Sunday Workshops: $45 for members, $55 non-members
To register for a One Day Workshop please contact our Demo/Workshop Coordinator Lesley Block

Welcome Back – Presenting Your Artwork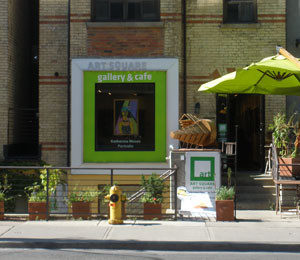 Monday, January 8 – 7:00 pm to 9:00 pm
Mira Martinez is a visual artist and curator.
In "Presenting your art in a professional manner" she will be giving
simple tips that will help you to have well-finished artwork front and back adding value to it.
She will bring a few samples of her own, some of them not well finished to see the difference of the before and after during her career.
Mira Martinez was born in Montevideo, Uruguay. She has a degree in Fashion & Design, and moved to Toronto with her husband in 1975.
Mira dedicates her time to continue her artistic education by following her passion to learn new skills while attending a variety of different art courses. Her keen curiosity leads her to experiment techniques such as digital transfers, mixed media's, digital photography with a combination of painting and drawings.
Mira is Curator and Gallery Coordinator for Art Square Gallery and Art hub Gallery since 2014.
Watercolour/Batik with Linda Virio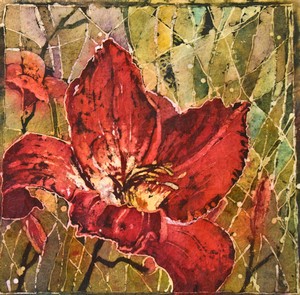 Demo – Monday, January 22 – 7:00 pm to 9:00 pm
Workshop – Sunday, February 25 – 9:30 am to 3:30 pm
Watercolour Batik Demo
Linda will briefly describe the origins of traditional batik which uses fabric and dyes, before outlining how this process has been adapted to modern usage with rice paper and watercolour paint. Linda will demonstrate the process from beginning to end, from initial sketch to the "final reveal" when all the wax is removed, and the watercolour painting shows its brilliance.
Watercolour Batik Workshop
The workshop begins with a detailed description and demonstration of the watercolour batik process. Students are encouraged to work on 2-3 small projects. Students are asked to bring their usual watercolour painting supplies (paints, brushes, palette). A $10 materials fee covers the "batik" tools and materials (i.e. wax, wax brushes, wax-melters, irons, rice paper supports).
Linda Virio is a visual artist, inspired mainly by her life in the country near Bowmanville, Ontario. Her home and studio are nestled in an idyllic setting surrounded by trees, gardens and two large ponds. These, as well as local forests, farms, barns and country fields inspire Linda's work. Linda paints primarily with watercolour and wax. Watercolour batik uses wax as a resist and encaustic uses wax as the painting medium. Her style ranges from impressionistic, to naïve and abstract.
Abstract Landscape with Mira Martinez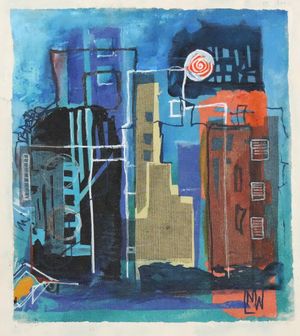 Demo – Monday, April 16 – 7:00 pm to 9:00 pm
Workshop – Sunday, May 6 – 9:30 am to 3:30 pm
Landscape has been always a major theme in art, whether confined to the background of a portrait or wide-open with dramatic mountains, rivers, dunes or vegetation.
The artistic definition of Landscape was challenged in the twentieth century when urban and industrial cityscapes were part of the scenery, then becoming a new definition: Cityscape and Urban Landscape.
Now a days, many artists are using photography and videos as a reference or combining them with different techniques such as digital transfers and various mixed medias, voicing and recording the ways we relate to the places we live in and the impact we have on the land and our environment.
We will be relating to the role as artists documenting landscapes and our city habitats .
How to integrate land and city?
An easy demonstration on cityscapes and landscapes combined.
How to juxtapose or invert the priority of this two themes in which we are also participants and actors
Creating different urban moods.
WORKSHOP
WHAT I SEE, WHAT I FEEL, WHAT TO SAY
Based on the demo, express yourself. This is HANDS ON!
Materials required: any medium you feel comfortable to work with: acrylics, watercolours, pastels, graphite etc. scissors, polymer medium gloss, magazines, colour printing on bond paper of photographs you are interested to work with.
TOOLS:Brushes, palette knife or any other tools you are used to work with.
Surfaces: paper, canvas, wooden panels.etc.
We will have day of fun and learning experience!
Texture in Artwork with Maria Fondler-Grossbaum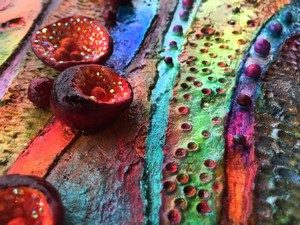 Demo – Monday, May 14 – 7:00 pm to 9:00 pm
Workshop – Saturday, June 9 – 9:30 am to 3:30 pm
Learn to enrich your art with dramatic color, texture and dimension by harnessing the unique properties of speciality materials.
The workshop will consist of:
Sculpting mixture preparation
Textural patterns technique
3D objects
Colours overview
Combining colours, creating layers
Colouring 3D objects
Decorative materials overview
Rhinestones application
Varnish and sealing