Proof of full COVID 19 Vaccination is required for all 12 years and older to enter the Mill Pond Gallery.
The RHGA is a tenant of the City of Richmond and is required to follow this City of Richmond Hill policy.
---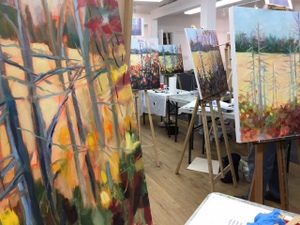 Join us once a month for a demo from a visiting artist and sign up for the full day Sunday workshop to learn how to apply the techniques to your own artwork.
Artist Demonstration/Artist Talks take place on Monday evenings from 7:00 pm – 9:00 pm
*Please note* – Due to COVID19 our Demos and Workshops will continue to be Virtual through the zoom platform into the fall (unless otherwise stated).
To register for a Workshop please contact our Demo/Workshop
Coordinator Mary Espinosa
maryesp28@yahoo.com
Virtual/In Person Demo Evenings and Workshops
Painting Ice, Snow And Rocks In Acrylics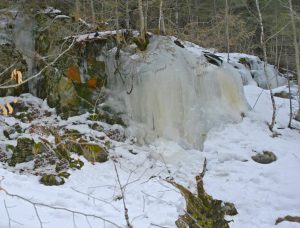 VIRTUAL Demo Evening – Monday, February 7 – 7:00 pm to 9:00 pm
VIRTUAL Workshop – Thursday, February 17th, and Thursday, February 24th – 9:00 am to 12:00 pm
Join artist Andrew Cheddie Sookrah for an exciting exploration of the colour, form, structure, depth and texture found in ice, snow & rocks and their interconnected relationship with each other and the surroundings they are in.
Leveraging the attributes of this versatile medium while working from a supplied reference image, continue your exploration of how to observe, interpret and move beyond the obvious to develop a vibrant painting in your own voice, using confident and informed brushstrokes.
Refine your ability to create impactful design and composition, extracting only necessary information from your reference.
Working from one of Andrew's images taken on his extensive travels to Algonquin Park, (Ragged Falls) you will create a painting with that WOW factor… Both his demo and workshop will use the same image. (Image is pictured above)
Basic drawing techniques, perspective, composition, colour, texture, use of material will be explored.
The following is a suggested plan for our two-session workshop; this outline could be changed to accommodate your wishes for individual outcomes.
Andrew will be providing constant support and guidance for the entirety of our workshop.
Read about Andrew Cheddie Sookrah
Price: $60 members, $70 non-members

Expressive Portrait and Figure in Watercolour with Instructor Atanur Dogan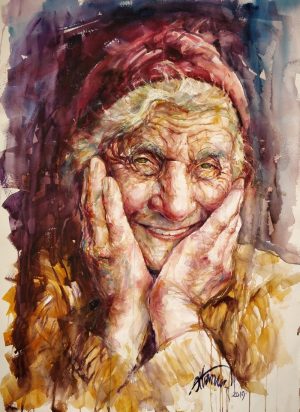 VIRTUAL Demo Evening – Monday, March 7 – 7:00 pm to 9:00 pm
VIRTUAL Workshop – Sunday, March 27 – 10:00 am to 4:00 pm (with one hour break for lunch)
Discover the spontaneity so unique to watercolour and paint colourful, expressive portraits and figures.
Artist/instructor Atanur will teach you valuable watercolour concepts and techniques to capture movement, gesture and the spirit of your subject as you paint from photographic reference. Learn how light affects the temperature of colours and values, and how to use the transparency of this medium to allow the light of the paper to come through. Deemed one of five best portrait artists in the world by the Portrait Society of Canada, Atanur will guide you to create vivacious, vibrant paintings in stunning colour
Demonstrations lots of individual assistance and critiques. Workshop best suited for beginners with some experience to intermediate.
If you wish you may bring a sketched out portrait to allow for more painting time.
About Atanur Dogan
Atanur is a watercolour artist with Turkish/Canadian dual nationality. A graduated of Dokuz Eylul University in Turkey, he is best known for his portraits and figures and distinctive painting skill. His forceful brush strokes evoke the life and tribulations of his subjects. He has mastered the difficult medium of watercolour, utilizing contrasts in colour and depth to create striking effects. He enjoys painting people of different ethnicities, with a focus on their faces and body language and what these express. He has participated in more than 200 exhibitions worldwide and teaches workshops around the globe. In 2004 he hosted an international exhibition entitled " Peace Through Art ", and then established the International Watercolor Society in 2012. In just 10 years, International Watercolor Society has become one of the most active art societies in the world with 110 country branches. Atanur and his team also opened IWS galleries, IWS Educational Centres, IWS Research Centres and have published an IWS International Magazine. Every year the society country branches organizes international watercolour festivals, exhibitions and workshops. Atanur travels to every country supporting each IWS activity. His goal is to make watercolour one of the world's most popular painting techniques.
Read about Atanur Dogan
Price: $60 members, $70 non-members

An Impressionistic Expression of Roses on Canvas with Marjorie Mae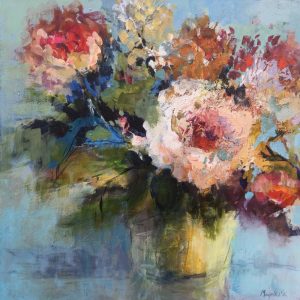 VIRTUAL Workshop Series – Tuesday, March 22, 29 & April 5 – 6:30 pm to 8:30 pm
In this workshop we will explore the rose while using our acrylic paints. We'll learn about:
The use of line.
Transparent colours.
Lost and found edges.
The creative power of big brushes and unlimited inspiration. This will be about the joy of giving your creative self free reign to place confident marks on canvas. You'll love discovering your own voice! Something fun and informative for all skill levels.
Read more about Marjorie Mae
Price: $60 members, $70 non-members

Landscape Painting Oil/Acrylic with Robert McAffee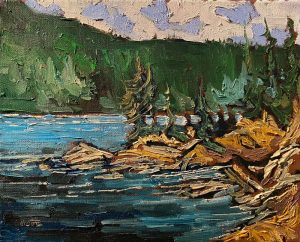 VIRTUAL Demo Evening – Monday, April 4 from 7:00 pm to 9:00 pm
INPERSON Workshop – Saturday, April 30 from 10:00 am to 4:00 pm
A self-taught artist inspired by Tom Thomson, Jack Reid and Claude Monet, Robert McAffee has produced hundreds of original oil paintings, and his artwork hangs in the galleries and libraries of various cities throughout Ontario, including Oshawa, Etobicoke and Mississauga. His work also graces many corporate art collections, hanging on the top floors of several of Toronto's tallest towers, including The TD Canada Trust Twin Towers, TD Towers, Scotia Bank Tower and others.
With over 35 years' professional experience, Robert McAffee has earned a reputation as a leading landscape artist. Among his proudest achievements: being chosen to be the exclusive artist for the CN Tower's revolving restaurant, 360, where his landscapes have been featured, appreciated and purchased by visitors from all corners of the globe and all walks of life since 2010. As a result of this unique exposure, his work has found its way into several private and corporate art collections.
Mr. McAffee takes part in several art shows throughout Ontario every year, including his own private exhibition, which runs from December till the end of January at the Central Library in his home town of Whitby, Ontario. One of the finest architectural structures anywhere, the Whitby Central Library is a major attraction for visitors from around the world, including international political and corporate delegations.
Read about Robert McAffee
Price: $60 members, $70 non-members

Painting Water and Rocks – Peter John Reid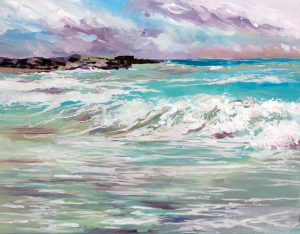 INPERSON – Demo Evening – Monday, May 2, 2022 – 7:00 pm to 9:00 pm
INPERSON -2 Day Workshop – Saturday, May 28 and Sunday, May 29 – 9:30 am to 4:00 pm
The course will help dispel the belief that water is one of the hardest subjects to paint. You will learn to capture the varying energies of water – from the tranquil to the rushing flow of a cascade – by truly seeing the subject, the colours and the various techniques you can use. Mornings will be spent learning the ebb and flow of water while the afternoons will be spent working on your own projects with individual assistance.
Read about Peter John Reid
Price: $100 member, $120 non-members

Developing Strong Landscape Paintings – Barb Sohn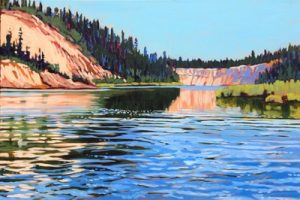 IN PERSON- 2 Day Workshop
New dates: TBA
This is a two-day workshop designed for the serious beginner and intermediate painter who is interested in my approach to planning and interpreting landscape and water. What makes a strong painting? The focus will be on simplification, composition, colour and light.
We will begin with a review and discussion of the fundamentals of a strong painting, followed by an initial demonstration.
Demonstrations will be done in acrylic paints. I will assist individuals in developing a painting from a reference photo that they supply.
On the second day, students will work with supervision, with demonstrations on specific points as needed.
If we do an eat-in lunch time, I can do a slide show of a collection of artists whom I like, with a discussion about the factors that make it a strong painting.
We will conclude on Sunday with a critique and general discussion.
Price: $100 member, $120 non-members