---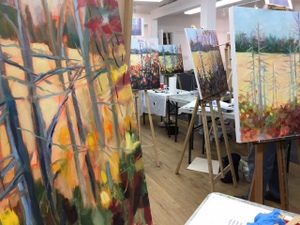 Join us once a month for a demo from a visiting artist and sign up for the full day Sunday workshop to learn how to apply the techniques to your own artwork.
Artist Demonstration/Artist Talks take place on Monday evenings from 7:00 pm – 9:00 pm
*Please note* – Due to COVID19 our Demos and Workshops will continue to be Virtual through the zoom platform into the fall (unless otherwise stated).
To register for a Workshop please contact our Demo/Workshop
Coordinator Mary Espinosa
maryesp28@yahoo.com
Virtual/In Person Demo Evenings and Workshops
An Impressionistic Expression of Tulips on Canvas with Marjorie Mae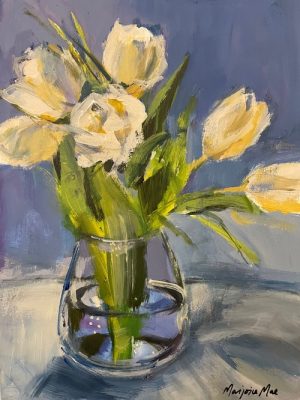 VIRTUAL Demo Evening – Monday, April 4 – 7:00 pm to 9:00 pm
VIRTUAL Workshop Series – Tuesday, April 12, 19 & 26 – 6:30 pm to 8:30 pm
In this workshop we will explore the rose while using our acrylic paints. We'll learn about:
The use of line.
Transparent colours.
Lost and found edges.
The creative power of big brushes and unlimited inspiration. This will be about the joy of giving your creative self free reign to place confident marks on canvas. You'll love discovering your own voice! Something fun and informative for all skill levels.
Read more about Marjorie Mae
Price: $60 members, $70 non-members

Painting Water and Rocks – Peter John Reid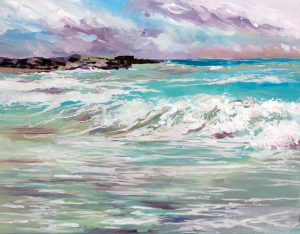 INPERSON – Demo Evening – Monday, May 2, 2022 – 7:00 pm to 9:00 pm
INPERSON -2 Day Workshop – Saturday, May 28 and Sunday, May 29 – 9:30 am to 4:00 pm
The course will help dispel the belief that water is one of the hardest subjects to paint. You will learn to capture the varying energies of water – from the tranquil to the rushing flow of a cascade – by truly seeing the subject, the colours and the various techniques you can use. Mornings will be spent learning the ebb and flow of water while the afternoons will be spent working on your own projects with individual assistance.
Read about Peter John Reid
Price: $100 member, $120 non-members

Developing Strong Landscape Paintings – Barb Sohn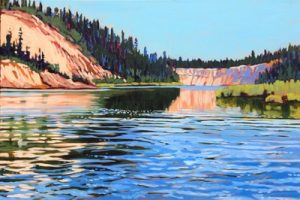 IN PERSON- 2 Day Workshop
New dates: TBA
This is a two-day workshop designed for the serious beginner and intermediate painter who is interested in my approach to planning and interpreting landscape and water. What makes a strong painting? The focus will be on simplification, composition, colour and light.
We will begin with a review and discussion of the fundamentals of a strong painting, followed by an initial demonstration.
Demonstrations will be done in acrylic paints. I will assist individuals in developing a painting from a reference photo that they supply.
On the second day, students will work with supervision, with demonstrations on specific points as needed.
If we do an eat-in lunch time, I can do a slide show of a collection of artists whom I like, with a discussion about the factors that make it a strong painting.
We will conclude on Sunday with a critique and general discussion.
Price: $100 member, $120 non-members