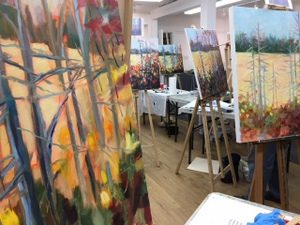 Join us once a month for a demo from a visiting artist and sign up for the full day Sunday workshop to learn how to apply the techniques to your own artwork.
Monday Evening Demos: FREE for members, $5 non-members
One day Workshops: $50 for members, $65 non-members
*Please Note* – Cost for 2 day workshops TBD
To register for a Workshop please contact our Demo/Workshop
Coordinator Mary Espinosa
maryesp28@yahoo.com
Virtual Demo Evenings and Workshops
Virtual Workshop Series with Andrew Cheddie Sookrah
The Figure In The Landscape / Passion For The Figure In Urbanscapes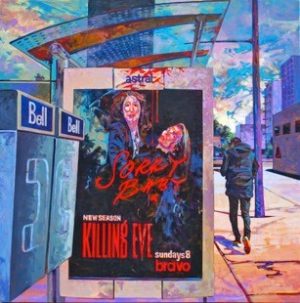 Monday, July 27th – 10:00 a.m to 1:00 p.m
Wednesday, July 29th – 10:00 a.m to 1:00 p.m
Friday, July 31st – 10:00 a.m to 1:00 p.m
We will explore the art of observing and collecting visual and intuitive information on your subject and presenting it as your interpretation of that person(s), showing the strong connection between them and the landscape, scene they are in.
During this course Andrew will explain a variety of methods that will help us gather the information we need and how to interpret it in drawing and painting.
We will explore basic drawing techniques, including perspective, style, technique, colour, tonal values and basic proportions of the human form, as well as elements of portraiture as we place the figure in our urbanscape. Each day will start with a demonstration followed by personal one-to-one tuition and advice on how to continue to develop your skills.
We will explore:
The seven elements of design: balance, unity, movement, rhythm, pattern, contrast & focal point
Drawing a relationship between lines in our subject, which are echoed in lines in our landscape
Capturing a physical appearance, the likeness in our portrait
The intuitive touch of the personality in our subject
The process we work in: identifying challenges facing us as we progress, finding solutions
Each day will begin with a demo then review and guidance session
Artists will paint with review and guidance sessions through the session.
On Friday we will stop work at 12.15 for a 45 minute review and guidance session.
Please contact Mary Espinosa to register for this workshop. Workshop fee is $90.00 for all 3 sessions, payment can be made by cheque or e-transfer to rhgaexec@gmail.com
Mary – maryespinosaart@gmail.com
About the Artist:
Andrew Cheddie Sookrah is a professional artist / teacher living and working in Toronto, and an elected member of Canadian Society of Painters in Watercolour, Society of Canadian Artists (Honourary, Mentor), Ontario Society of Artists, Portrait Society Of Canada.
Sookrah is a raw colourist whose free brushwork is confident and powerful. His strengths can be seen in his strong sense of design, exquisite use of effective composition, confident presentation of bold colours. His is a masterful expression of the inter-connectivity of everything