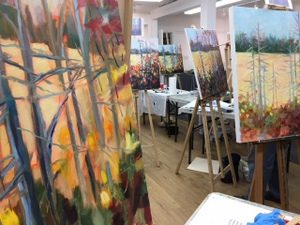 Join us once a month for a demo from a visiting artist and sign up for the full day Sunday workshop to learn how to apply the techniques to your own artwork.
Artist Demonstration/Artist Talks take place on Monday evenings from 7:00 pm – 9:00 pm
*Please note* – Due to COVID19 our Demos and Workshops will continue to be Virtual through the zoom platform into the fall (unless otherwise stated).
To register for a Workshop please contact our Demo/Workshop
Coordinator Mary Espinosa
maryesp28@yahoo.com
Virtual Demo Evenings and Workshops
Painting the Pandemic Experience with Grethe Jensen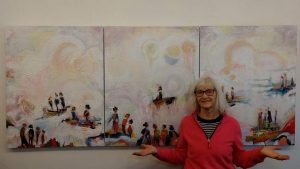 Virtual Demo Evening
Monday, May 3 – 7:00 pm to 9:00 pm
The times that we are living through will feature in history; COVID will be written about and talked about for years to come. We have all been impacted. How is your pandemic experience influencing your artwork? Are your emotions and feelings running high? Are you expressing them in your artwork?
In this presentation Grethe Jensen will show you her Pandemic painting story. Expressing feelings, emotions, the very essence of being, has always been the core of her artwork, and the heightened levels of "everything" during the past year has left her feeling that there is much that needs to be said – and expressed – in the studio. She will talk about her inspirations, processes, and tools while sharing her artwork with you.
Teaching and learning has also changed in the past year. Using video and sound technology, along with the connectivity provided by ZOOM and the internet, she has continued to foster creative development in her students. Hear how the pandemic changed her approach to teaching, and how technology has enabled ongoing sharing and connection among her students.
Grethe Jensen is a Toronto based artist and arts educator.
Get to Know YOUR Colours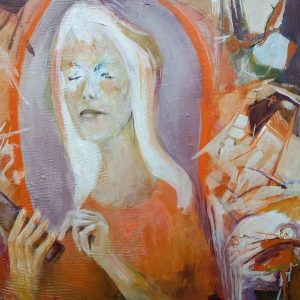 Virtual Workshop Series
This workshop consists of 4 chapters, delivered over 2 weeks
May 7 – May 20, 2021
Chapter 1 launch – Friday May 7, 8 am
Chapter 1 studio session – Monday May 10, 7:00 – 8:30 pm
Chapter 2 launch – Tuesday May 11, 8 am
Chapter 2 studio session – Thursday May 13, 7:00 – 8:30 pm
Chapter 3 launch – Friday May 14, 8 am
Chapter 3 studio session – Monday May 17, 7:00 – 8:30 pm
Chapter 4 launch – Tuesday May 18, 8 am
Chapter 4 Studio session – Thursday May 20, 7:00 – 8:30 pm
This course introduces four contemporary artists and explores their approaches and artwork. Along with looking at the work of these daring young artists, this workshop will focus on the role of colour: bold colour, subtle colour, no colour, minimal colour. Colour theory and colour mixing is ever present in all we do. This workshop includes several exercises that are designed to encourage you to express your feelings through colour, while learning core art theory.
Each chapter "launch" includes 2 videos:
Meet the artist – explore and analyze the work of a contemporary artist, and
A hands-on lesson and exercise
The "Meet the artist" video is designed to inspire you, and the "lesson and exercise" video encourages you to head into your studio to practice. These components will "launch" and be available to you a few days before the studio session giving you time to watch, listen, read, research, and practice in preparation for the studio session.
The studio session will be shared via ZOOM:
There will be a shared studio session for each chapter. This is your opportunity to work together while apart. It is a time for talking, sharing the creative experience, group critique, and painting. To facilitate sharing of your artwork, you will have access to a "chat room" on the course website where you will be able to upload your work, ready for sharing during the studio session.
Each participant is encouraged to experiment and be expressive, while finding and following their own path and growing in their own personal direction. No two students will produce the same painting. After completing this workshop, you will appreciate the paints that you already have and you will be equipped with techniques and a set of tools that will help you move forward, especially when working in your home studio
This program will be run from Grethe Jensen's website. Those who register for the workshop will have a login ID which will give them access to all the course material.
Overall, the course is suitable for beginning artists with some painting experience and intermediate level artists who are seeking new approaches in their art.
Read more about Gerthe Jensen
Price: $140.00
Any questions? Contact Mary – maryespinosaart@gmail.com

John David Anderson – Virtual Workshop Series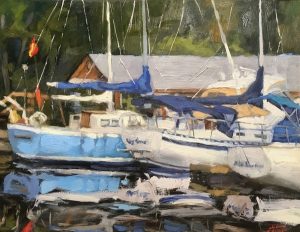 Thursday, May 6 – 6:30 pm to 9:30 pm
Thursday, May 13 – 6:30 pm to 9:30 pm
Thursday, May 20 – 6:30 pm to 9:30 pm
Thursday, May 27 – 6:30 pm to 9:30 pm
Week #1- Flowers
Flowers in the landscape are often a colour relief, and shape relief as they are different from a flat plain or a large vertical. They represent an interruption, and thereby contrast. Building elements of contrast into a piece will bring the viewer in, and will offer them a treat. Flowers do that so well. Through two 11x 14 studies we will explore two approaches to flower in the landscape.
Week #2- Reflections
They always present a challenge to a painter. If they look too "perfect"; they become a one note wonder, and have only temporary value as a point of interest. With an impressionist approach the nature and character of reflections can add significantly to a piece without overpowering the rest of the painting. We will build the source of the reflections first and introduce the reflections to complete the composition.
Week #3 – Waterfalls/Moving Water
How to see water and water in motion is a great challenge to painting. Through two exercises we will build a moving water scene and a waterfalls scene on 9 x 12 or 11 x 14 canvases. You will learn to see how the water is constructed and how to capture the motion through patterns, colours, and values.
Week #4- How to abstract a landscape
All painting is an abstraction from reality. We are building a representation of 3 dimensionality and depth in a canvas that is flat through shapes, values, and colours. Further abstraction is very attainable through the analysis of the big shapes, value, edge and colour relationships.
We will take a look at this process on a 16 x 20. To get a good idea of the end possibilities look-up Brian Rutenberg, a New York based painter of enormous, colour-filled, abstracted landscapes.
More about John David Anderson
Price: $100.00 members, and $110.00 non members
Still Life – Floral painting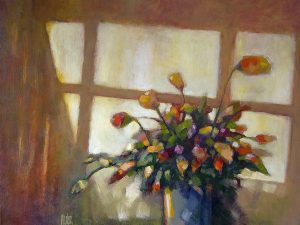 Virtual Demo Evening
Monday, June 7 – 7:00 pm to 9:00 pm
Saturday, June 19 – 9:30 am to 12:30 pm EST
Sunday, June 20 – 9:30 am to 12:30 pm EST
One flower garden was a special place to escape into endless hours of drawing in my youth. When I started to paint, I was drawn to a small town scenery and figurative. Only after my seven years of instructing Colour Theory, I returned to the stimulating vibrancy of flowers.
Their bold and graceful shapes are very personal to me. They reveal their fascinating radiance when seen in an eclectic and semi-abstract way.
Born and raised in Europe, Vladan made Toronto home in 1993.
Vlad has been painting Fine Art, portraiture, murals, animation backgrounds, and comics.
He had numerous solo shows in Toronto, Calgary, York (UK), Columbia (SC), and Palm Beach Gardens (FL).
Since 2009 he has also instructed in Painting, Colour Theory, Perspective, and Photoshop.

Read more about Vladan Ignatovic
Price: $55.00 members, and $65.00 non members
Sell your art online!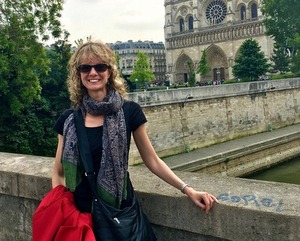 Virtual Demo Evening
Monday, July 5 – 7:00 pm to 9:00 pm
In this 2-hour talk, Jamie will introduce some of her best strategies and tips for selling art online. Topics will include: building sales through e-commerce and social media, pricing original art, branding for artists, and taking an "ecosystem" approach to your artistic practices. Artists of all experience-levels are welcome, including those who are just starting to think about selling their work.
Dr. Jamie Kemp is an award-winning arts coach, consultant, and Professor of Art History and Visual Studies at Quest University Canada in Squamish, BC.
Through her arts consulting business, myartspeak.com, she advises artists who work in every medium and at every skill level. She uses her expert knowledge of the arts, technical skills, experiences in arts administration, and the tools of coaching to empower artists. Among other things, she loves to help artists sell their work, apply for grants and residencies, build e-commerce websites, develop social media skills, set goals for their business and artistic practice, and share what they know through online and in-person workshops.
Developing Strong Landscape Paintings – Barb Sohn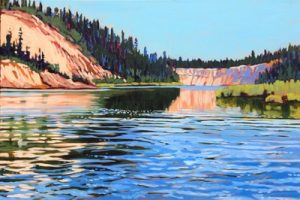 2 Day Workshop
Saturday, October 2 – 9:30 am to 4:00 pm
Sunday, October 3 – 9:30 am to 4:00 pm
This is a two-day workshop designed for the serious beginner and intermediate painter who is interested in my approach to planning and interpreting landscape and water. What makes a strong painting? The focus will be on simplification, composition, colour and light.
We will begin with a review and discussion of the fundamentals of a strong painting, followed by an initial demonstration.
Demonstrations will be done in acrylic paints. I will assist individuals in developing a painting from a reference photo that they supply.
On the second day, students will work with supervision, with demonstrations on specific points as needed.
If we do an eat-in lunch time, I can do a slide show of a collection of artists whom I like, with a discussion about the factors that make it a strong painting.
We will conclude on Sunday with a critique and general discussion.
Price: $100.00 member, $120.00 non-members

Acrylic Florals by Marjorie Mae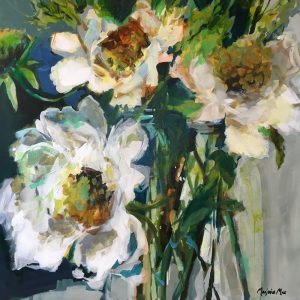 Demo Evening
Monday, November 1, 2021 – 7:00 pm – 9:00 pm
1 Day Workshop
Saturday, November 27 – 10:00 am to 5:00 pm
In this workshop we will explore a loose and painterly approach to florals. We will layer (with transparents and opaques), use line, and a limited palette to create an impressionist style floral arrangement. We will learn the freedom of responding to our own marks on canvas and discover the beauty of the unexpected. So come, and bring your brushes, your big ones. Find out how much fun it is to have permission to just make 'that mark'. You'll love discovering your own voice!
Price: $60.00 member, $70.00 non-members

Painting Water and Rocks – Peter John Reid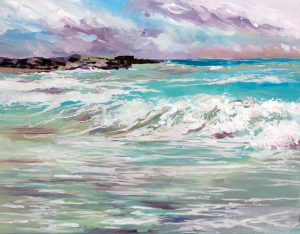 Demo Evening
Monday, May 2, 2022 – 7:00 pm to 9:00 pm
2 Day Workshop
Saturday, May 28 – 9:30 am to 4:00 pm
Sunday, May 29 – 9:30 am to 4:00 pm
The course will help dispel the belief that water is one of the hardest subjects to paint. You will learn to capture the varying energies of water – from the tranquil to the rushing flow of a cascade – by truly seeing the subject, the colours and the various techniques you can use. Mornings will be spent learning the ebb and flow of water while the afternoons will be spent working on your own projects with individual assistance.
Read about Peter John Reid
Price: $100.00 member, $120.00 non-members