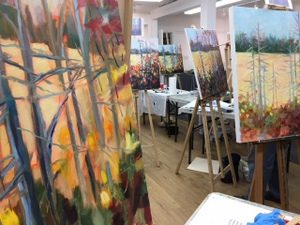 Join us once a month for a demo from a visiting artist and sign up for the full day Sunday workshop to learn how to apply the techniques to your own artwork.
Monday Evening Demos: FREE for members, $5 non-members
One day Workshops: $45 for members, $55 non-members
*Please Note* – Cost for 2 day workshops TBD
To register for a Workshop please contact our Demo/Workshop
Coordinator Mary Espinosa
maryesp28@yahoo.com
Sky, Trees, Rocks with Cathy Boyd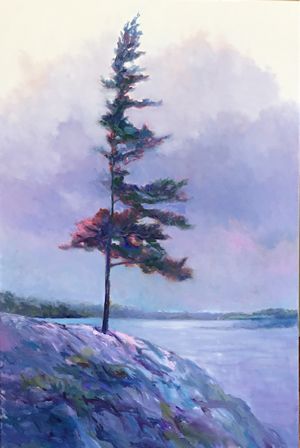 Demonstration
Monday, September 9 – 7:00 pm to 9:00 pm
Workshop
Sunday, September 29 – 9:30 am to 3:30 pm
This demo will illustrate how to paint all 3 subjects into one well composed painting. Cathy Boyd will demonstrate using oils but will give valuable tips for those using acrylics also. A loose, thin sky, a windswept pine and some craggy rocks. Using a reference photo, my emphasis will be on painting quickly to achieve a colourful, impressionistic painting.
Public Art, Murals and Community Engagement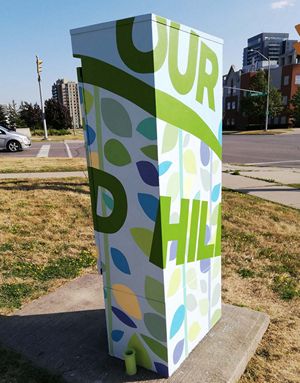 Monday, October 7 – 7:00 pm to 9:00 pm
Tonight, Robin Hesse, will be introducing us to public art, mural painting and community engagement.
Since 2014, she has been painting murals. In 2015 Robin joined the StreetARToronto team, and has been the successful applicant in many of the City of Toronto's community mural initiatives.
Robin works for Toronto Public Library, a trusted and valued community partner. There, in public services, she has learned much about community engagement and how community projects, including mural projects and creative programming can animate and bring public spirit and pride to neighbourhoods. Robin is here to bring such a program to our new City of Richmond Hill.
Robin's project is called The Richmond Hill Traffic Box Murals Project. She was awarded a Richmond Hill Community and Cultural Grant to paint two murals on utility boxes in the community and to engage as many residents as possible in the project.
The project has been an enormous success, as the community has been most interested and engaged in the murals. Robin's goal is to expand the project in the years to come to include local artists painting murals on Richmond Hill traffic boxes.
Robin Hesse is an Honours graduate of the Ontario College of Art and Design and a mural artist.
Landscape Painting on Black – Lucy Manley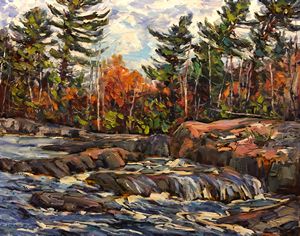 Workshop – Sunday, November 3 – 9:30 am to 3:30 pm
In this one day workshop we will be painting the landscape in an impressionist style. Lucy paints in oil, however acrylic is also welcome.
You will bring a canvas prepared ahead of time with black gesso or acrylic paint. A material list and recommended canvas size will be provided upon registration.
Painting 'on location' in all the seasons is the mainstay of Lucy's inspiration. Travelling extensively near and far from my Peterborough County home studio-gallery base, Lucy searches for her subject: the traditional landscape and rural life as well as the wilderness areas of the north. This 'on location' urge has also taken her across Canada, west to the Rockies and east to Newfoundland; south to the USA and Mexico; and abroad to France, Italy and Russia.
Cold Wax & Oil Painting – Laura Culic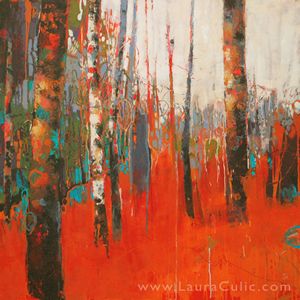 Demo – Monday, November 4 from 7:00 pm to 9:00 pm
2 Day Workshop – Saturday and Sunday, December 7 & 8 from 9:30 am to 3:30 pm
Oil & cold wax is a super exciting, always engaging and seemingly unlimited technique. I'm looking forward to sharing my experience in this medium, and igniting enthusiasm and creativity with the group.
My approach to this medium is multi-layered. The cold wax gives the paint a bit stiffer and more buttery body than straight oil, thus it lends itself beautifully to applying with various tools – squeegees, bowl scrapers, cabinet scrapers, credit cards, palette knives, brayers… you name it. The wax helps the oil to dry more quickly, facilitating the build up of layers, and also the scraping back into underlying strata. Mark making with oil sticks or with tools is also an integral part of my process. One aspect of the medium that we'll be unable to explore fully in a two day workshop is the fact that it can be scraped back into at any time in the drying process, to reveal underlying imagery – often exciting and surprising! To get a sense of how this will work, I would encourage participants to bring along smaller paintings that have perhaps stalled or they feel are unsuccessful – oil or acrylic – and work over them with the cold wax and oil.
This technique really helps to loosen up painters who are used to, or even limited by the amount of control achieved with brushes – chance and serendipity enter into the cold wax equation to a great degree.
My paintings, whether representational or abstract, are inspired by the landscape. I occasionally use photos as a jumping-off place, to get into a piece, but most of my work is dictated by the principles of composition, colour and the desire to evoke emotion. Participants are welcome to use their own photo reference, or to paint abstract or landscape inspired paintings imaginatively and intuitively. Although we'll remain mindful of the basic tenets of good painting: composition and design; colour mixing and temperature; value; intuitive application alternating with analysis, the focus will be on exploring the medium itself, not the final outcome. I'll offer loads of one-on-one instruction, insightful and constructive critique and positive encouragement.
Rather than work on completing one perfect painting, I encourage participants to work on several at once, to allow a true sense of play and experimentation pervade. This medium is really fun, and seems to encourage painting "in the moment". Mistakes don't really seem to exist – marks made are easily scraped off or painted over, thus contributing to the interest, depth and sense of history in a piece.