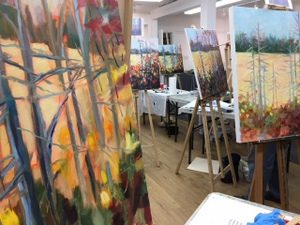 Join us once a month for a demo from a visiting artist and sign up for the full day Sunday workshop to learn how to apply the techniques to your own artwork.
Artist Demonstration/Artist Talks take place on Monday evenings from 7:00 pm – 9:00 pm
*Please note* – Due to COVID19 our Demos and Workshops will continue to be Virtual through the zoom platform into the fall (unless otherwise stated).
To register for a Workshop please contact our Demo/Workshop
Coordinator Mary Espinosa
maryesp28@yahoo.com
Virtual Demo Evenings and Workshops
Kal's Composition Bites – with Kal Honey
Virtual Workshop Series
Tuesday, February 9 – 6:30 pm to 8:00 pm
Tuesday, February 16 – 6:30 pm to 8:00 pm
Tuesday, February 23 – 6:30 pm to 8:00 pm
Each "bite" is a learn-and-apply session tightly focused around a single compositional principle. Hone your compositional eye through lecture, masterwork examples, discussion and a hands-on exercise. Great for upping your game!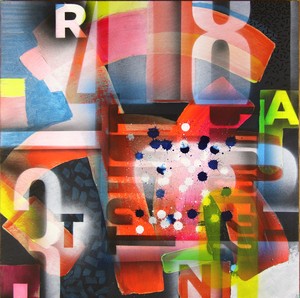 KCB #1: Size Matters!
When it comes to elements in your art, is bigger better or is smaller better? Or should there be a range? It all depends on what you're striving for. Learn when, why and how to use relative size to support your artistic goals.
KCB #2: Triangulation!
Harness the power of working in threes! Learn various considerations when using this deceptively simple and powerful tool to create engaging visual circuits and relationships in your work.
KCB #3: Dissonance!
We notice things by how they differ from their surroundings —that's dissonance in a nutshell. Learn how to harness and modulate the power of dissonance to suit your artistic intentions in any particular piece.
Visit Kal's website – kalhoney.ca
Price: $50.00 member $55.00 non-members
Payment is made online!
Any questions? Contact Mary – maryespinosaart@gmail.com
Quiet Colour, Stunning Possibilities – John David Anderson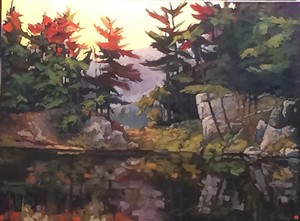 Virtual Demo Evening
Monday February 1 – 7:00 pm to 9:00 pm
Join us for an evening with John David Anderson! The zoom invitation will be email to RHGA members on the morning of the demo.
Virtual Workshop
Sunday, March 28 – 9:00 am to 4:00 pm
Big colour, though powerful and exciting, has some things to learn from subtle colour in the landscape. We will explore a landscape with an architectural element included that explores subtle shifts in colour and temperature to build a delightful, warm and engaging space. Managing quiet movement through a space using a range of lost and found edges, soft shifts of colour and colour temperature to move the viewer on a journey through the painted surface to a resting place or focal point will be the focus of the workshop.
Read more about John David Anderson
Price: $60.00 member $70.00 non-members
Payment is made online!
Any questions? Contact Mary – maryespinosaart@gmail.com
Approach to Acrylic Landscapes – Brian Buckrell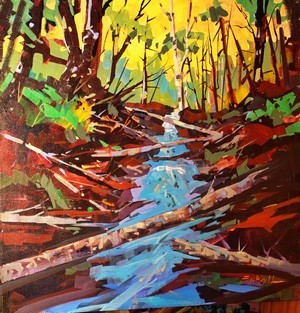 Virtual Workshop Series
Saturday, March 6 – 12:30 pm to 3:30 pm
Saturday, March 13 – 12:30 pm to 3:30 pm
Saturday, March 20 – 12:30 pm to 3:30 pm
Saturday, March 27 – 12:30 pm to 3:30 pm
The course is designed for the serious novice, with painting experience, to the intermediate painter. The program will be either three or four sessions ( three hours per session) running once a week. Demos will be in acrylics – but painters using other mediums are also welcome.
We will begin by reviewing fundamentals: shape, value, form, perspective, and composition. In subsequent sessions, we will emphasize planning and creating a series of paintings. Participants will do exercises between sessions. We will use a dedicated Facebook Group Page for discussion and sharing.
Max 17 participants
Lots of learning, lots of fun.
Read more about Brian Buckrell.
Price: $165.00 member $195.00 non-members
Payment is made online!
Any questions? Contact Mary – maryespinosaart@gmail.com
Painting Colourful Foliage – Dominik Modlinski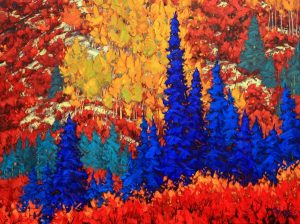 Virtual 2 Day Workshop
Saturday, April 24 – 1:00 pm to 5:00 pm (EST)
Sunday, April 25 – 1:00 pm to 5:00 pm (EST)
Ever wondered how to tackle a foliage that is colourful and dynamic in your painting? In this workshop we will explore a variety of painting applications that successfully captures natural form both in dynamic brushwork and intelligent colour harmonies.
Regardless of the season, adding foliage effects can take your landscape paintings to the next level of success. And, when it comes to seasonal foliage, we are all inspired by it. Either entranced by the lively greens of spring and summer foliage as well with the rich oranges, golds and reds of fall and early winter.
Although, perfecting the shapes and colors of the seasonal foliage you are trying to portray can be daunting, but in this workshop, Dominik will demonstrate step-by-step approach how to create crisp and lush foliage in your landscape.
Read More About Dominik Modlinski
Price: $100.00 member, $120.00 non-members
Any questions? Contact Mary – maryespinosaart@gmail.com
Developing Strong Landscape Paintings – Barb Sohn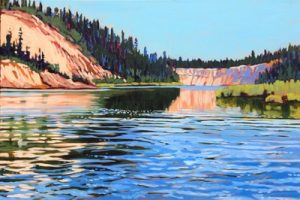 *LIVE* 2 Day Workshop
Saturday, May 15 – 9:30 am to 3:30 pm
Sunday, May 16 – 9:30 am to 3:30 pm
This is a two-day workshop designed for the serious beginner and intermediate painter who is interested in my approach to planning and interpreting landscape and water. What makes a strong painting? The focus will be on simplification, composition, colour and light.
We will begin with a review and discussion of the fundamentals of a strong painting, followed by an initial demonstration.
Demonstrations will be done in acrylic paints. I will assist individuals in developing a painting from a reference photo that they supply.
On the second day, students will work with supervision, with demonstrations on specific points as needed.
If we do an eat-in lunch time, I can do a slide show of a collection of artists whom I like, with a discussion about the factors that make it a strong painting.
We will conclude on Sunday with a critique and general discussion.
*Please note – This 2 Day Workshop will be live at the Mill Pond Gallery. Current COVID protocols will be followed.
Price: $100.00 member, $120.00 non-members
Any questions? Contact Mary – maryespinosaart@gmail.com