When:
January 30, 2021 @ 9:30 am – 4:00 pm
2021-01-30T09:30:00-05:00
2021-01-30T16:00:00-05:00
Where:
Mill Pond Gallery
314 Mill St
Richmond Hill, ON L4C 4B5
Canada

Contact:
Richmond Hill Group of Artists
905 770 7449
Urban Landscape In Perspective – Andrew Cheddie Sookrah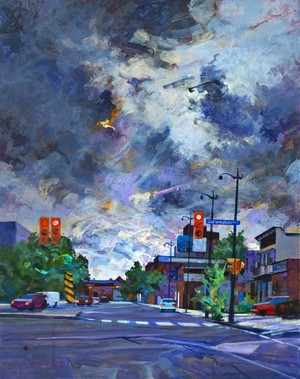 Virtual Workshop
Saturday, January 30 – 9:30 am to 4:00 pm
We will explore the art of observing and collecting visual and intuitive information from your reference and presenting it as your interpretation of that scene showing the strong connection between objects in the landscape.
Besides the technical aspects of basic drawing techniques, including perspective, simplification of complex shapes, technique, colour, tonal values, style, etc, we will also explore the process of painting – Objective, Decision, Action.
We will explore:
Perspective
The seven elements of design: balance, unity, movement, rhythm, pattern, contrast & focal point
Drawing a relationship between lines informing subjects in our urban landscape
The process we work in: identifying challenges facing us as we progress, finding solutions
Andrew will begin with a demonstration followed by personal one-to-one guidance and advice on how to continue to develop your skills. Artists will paint with review and feedback through the day.
There will be a 30 minute lunch break at 12.30 and a review session from 3.15 top 4.00 p.m.
About the Artist:
Andrew Cheddie Sookrah is a professional artist / teacher living and working in Toronto, and an elected member of Canadian Society of Painters in Watercolour, Society of Canadian Artists (Honourary, Mentor), Ontario Society of Artists, Portrait Society Of Canada.
He was one of the contestants in the Landscape Artists Of The Year Canada Competition, episodes can be seen on CBC tv on their GEM Documentary streaming service.
Sookrah is a raw colourist whose free brushwork is confident and powerful. His strengths can be seen in his strong sense of design, exquisite use of effective composition, confident presentation of bold colours. His is a masterful expression of the inter-connectivity of everything.
Read more about Andrew Cheddie Sookrah
Workshop – Material List
Price: $60.00 member $70.00 non-members
Payment is made online!
Any questions? Contact Mary – maryespinosaart@gmail.com