When:
March 9, 2020 @ 7:00 pm – 9:00 pm
2020-03-09T19:00:00-04:00
2020-03-09T21:00:00-04:00
Expressive Portrait and Figure Watercolour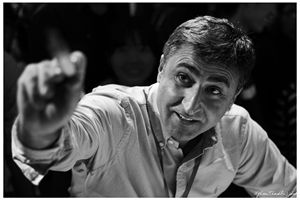 Demo – Monday, March 9 from 7:00 pm – 9:00 pm
Workshop – Sunday, March 29 from 10:30 am – 4:30 pm
Atanur Dogan will help you find your unique style!
Atanur is a watercolour artist with Turkish/Canadian dual nationality. He graduated from Dokuz Eylul University in Turkey, majoring in painting and sculpture.
He is best known for his portraits and figures and has a distinctive painting skill. The artist's forceful brush strokes evoke the life and particularly the tribulations of his subjects. He has mastered the difficult medium of watercolour, utilising contrasts in colour and in depth to create striking effects. He enjoys painting people of different ethnicities, with a focus on their faces and body language and what these express.