When:
February 10, 2020 @ 7:00 pm – 9:00 pm
2020-02-10T19:00:00-05:00
2020-02-10T21:00:00-05:00
Snow – The Real Story is Colourful!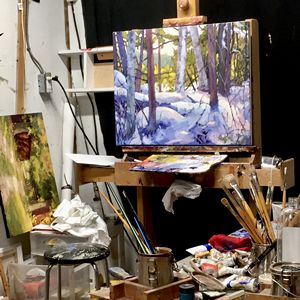 Demo – Monday, February 10 from 7:00 pm – 9:00 pm
2 Day Workshop – Saturday and Sunday, March 14/15 from 10:00 am -4:30 pm
John David Anderson
The dynamics of reflected light and direct light in the landscape, rural, wilderness or urban is a field of exciting colour possibilities that a camera doesn't see. We will play with the possible spectrum and explore how to maximize the value of colour in whites to create and engaging composition.
John will be working on a 18 x 24 canvas in the demonstration.