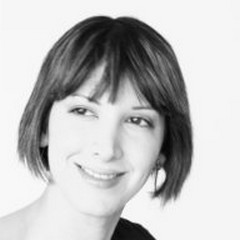 Beerox was created by Roxana Khoshsokhan in 2017.
Despite the prevailing negativity all around the world, Beerox tries to remain optimistic and encouraging.
She is free and braves herself towards new adventures.
She sees the world through only one eye and is missing both a nose and a mouth.
In most of the paintings, Beerox's hair is flying wild in the air to suggest freedom.
Beerox expresses her emotions with the surrounding colours.
Roxana Khoshsokhan is a designer, sculptor, graphic and visual artist.
She was born in Iran in mid 70s and raised in a family of artists and art-lovers, including her architect mother, her two sculptor and painter aunts, and her grand uncle who was a Persian-carpet designer.
She started painting and clay modelling from early childhood, but later on, continued sculpting more seriously.
Growing up, she decided to study in Italy, her ever dream country. She did her Bachelor's in Industrial Design, and Master's in Car Design in Milan. In 2010, Roxana moved to Canada with her family and majored in Fashion Design as well.
Having lived in Italy, the country of Arts and Fashion, and pursued varied fields of arts and design are two main factors which give Roxana's creative artwork a sense of originality in mind and imagination. Feelings are the most important elements in her drawings. She believes that everyday life in a world full of problems is disconcerting and an innocent, uncomplicated and colorful character (Beerox) could help as a relief.
Roxana is also a music lover. Creating her works, she listens to remarkable songs from phenomenal musicians such as Steven Wilson, Thom Yorke (Radiohead), Andrew Latimer and Mike Oldfield.
Contact
beerox.education@gmail.com
beeroxdesign.com