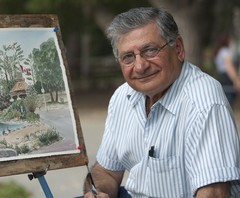 Khatcho was born in Cairo, Egypt in 1940 and is a descendant of Armenian parents. His artistic talent was evident at a young age when he earned his first award at the age of 12. He continued to pursue his passion by completing a four year comprehensive program at Leonardo Da Vinci Art College.
In 1970, Khatcho immigrated to Toronto with his family. The great Canadian landscape appealed to his love of nature and the creatures inhabiting it. Inspired and motivated, his passion for painting flourished. Utilizing watercolour as his preferred medium, Khatcho found his niche by capturing wildlife with a mystic transparency.
Khatcho's art has been displayed in many exhibits; solely and among his peers
in group shows. He has been recognized for his contribution to the world of the arts with various awards throughout his career. Khatcho has been an active member of the Richmond Hill Group of Artists since 1977. For further information, please contact rhga.ca.
Khatcho continues to grow in his craft and inspire others by teaching various workshops throughout Ontario.
Contact
khatcho@rogers.com