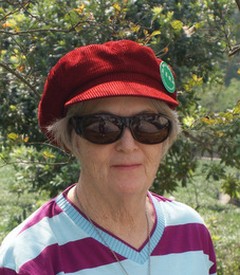 1967
Graduated from O.C.A. Sculpture.
1967-1983
worked at painting in oils or acrylic
worked at Curry's Art Store, sometimes part time sometimes full time
commissioned to paint abstract in stairwell to Dentist's office
ran and organized one personal show of my work from my apartment/workshop
ran and organized one group show (non juried, 8 artists) from my apartment/workshop
entered 8 w/c in Jack Pollock Gallery Toronto, group show
1983-84
served one year mission in Atlanta Ga. for the Church of Jesus Christ of Latter Day Saints
1984
1985-88
attended B.A. Program for Sign Language and Deaf Studies at Madonna College/University, Livonia Michigan
1988-94
worked at CHS Canadian Hearing Society as support staff
1992
married Johnny (Xi Zhang Shi)
many attempts to get back into painting
Volunteer Work
2 years as C.A.R.O. representative (Canadian Artist Representation Ontario), consulting artist for print screen book summer project at a Jewish Community Centre, Bob Rumball Centre for the Deaf teacher of painting and crafts, consulting artist for Church youth project to decorate their meeting room.
Contact
shi6602@icloud.com