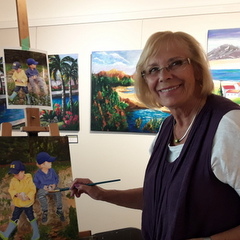 The process of creating art is fascinating.
I choose the subject and medium with the anticipation of the finished canvas. From an initial idea, I begin to shape what I believe will be a beautiful image.
Each new painting is an exploration of possibilities. The joy of creating something new is my reason for painting.
I hope that those who view my paintings will feel a similar joy. Some may even fall in love with an image and want to live with it happily ever after.
Jette was born in Denmark. and came to Canada in 1957. Her career spanned 40 years in the hair and fashion industry. After retiring she took up painting. She studied art with local art instructors in various classes and workshops. She has been a member of the Richmond Hill Group of Artists since 2001.
Contact
jettecott@gmail.com