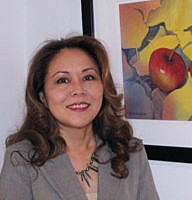 Grace was born in Okinawa, Japan. During the next 10 years her father's studies and vocation took our family back and forth between the United States, Canada and Japan, finally settling in Toronto, Ontario. Finding herself in new places, she turned to art which came naturally. Always drawing, painting, or singing and playing the piano was and still is her favourite pastime.
Being warned about the hard life of a fine artist, she decided to study Graphic Design and received her Bachelors degree from Andrews University in Michigan then went on to study Advertising Design at the Ontario College of Art and Design. After graduating from OCAD she went to work for Jerry Goodis at his new advertising agency Goodis Inc. where she honed my creative skills as an Art Director. After 10 years in the advertising industry she decided to take the time to raise and enjoy her two young children.
It just so happened that she signed up her father for a watercolour class, and after sitting in on his class realized how much she missed painting. Next session she was there taking the class with him to get back to her first love – painting.
Over the next few years, Grace pursued her love of pastels and worked on capturing peoples unique personalities in her portraitures. She takes a more traditional approach and strives to bring them to life on paper.
Grace also enjoys painting landscapes in pastels. "To me, colour and light are the keys to creating and sharing my emotions and vision of the scene. I hope to move the viewer with this expression in pastels and share with others what I'm so passionate about."
Contact
croughan.grace@gmail.com
gracecroughan.com