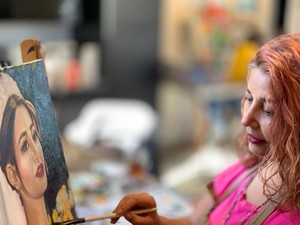 Flora is graduated in Master of Art Studies and Bachelor of Design and Print from Art University of Tehran; Iran. She is skilled in working with a variety of artistic concepts, techniques, materials, tools and mediums. She is also skilled in teaching Art history (before and after Renaissance)
She is a member of Richmond Hill Group of Artists since 2017.
She teaches oil, acrylic, watercolor and colored pencils for beginners and intermediate students. In her classes you will learn all about colors' theory, focusing on how to make a vast variation of colors' combination, and art fundamentals. She teaches how to paint different kind of flowers and trees fast and easy by using Alla prima technique etc…
To read more about Flora's Classes please visit our Art Classes Page.
Contact
flor.bakhtiari@gmail.com