When:
November 14, 2020 @ 10:00 am – 3:00 pm
2020-11-14T10:00:00-05:00
2020-11-14T15:00:00-05:00
Where:
Mill Pond Gallery
314 Mill St
Richmond Hill, ON L4C 4B5
Canada

Contact:
Richmond Hill Group of Artists
905 770 7449
Essential Landscape – Negative Painting Workshop with Linda Kent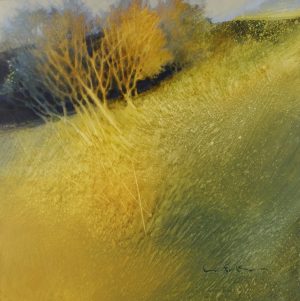 Virtual Workshop – Acrylic
Saturday, November 14 – 10:00 am to 3:00 pm
In this essential workshop a series of exercises will introduce you to alternative strategies for simplifying the landscape. Experiment with evocative color, add painterly marks and decorative elements to produce textures that animate and enhance the painting surface! You will discover how to build your paintings from the ground up with this fun approach.
Your painting begins with an experimental underpainting to establish layers and build visual texture. "Bristle" brush handling techniques will be fully demonstrated to show you how to suggest a meadow of blowing grasses and lay in the foundation of distant trees. Simple tree shapes will emerge using negative painting techniques. Layers of transparent and opaque acrylics will be laid in to reveal and conceal the emerging landscape forms. You will learn how and where to use captured negatives and minimal hard edges to bring your work into soft focus. Roll up your sleeves and prepare to create the extraordinary.
This workshop includes demonstrations, virtual handout notes, lots of time to work on your paintings and opportunities to review your work.
Linda Kemp
CSPWC, OSA, SCA
Author: Watercolor – Painting Outside the Lines and Simplifying Design and Color For Artists
studio@lindakemp.com
www.beastsandbirds.com
Join me on Facebook
Instagram
Price: $85.00 member $95.00 non-members
Payment is made online!
Any questions? Contact Mary – maryespinosaart@gmail.com