When:
May 3, 2021 @ 7:00 pm – 9:00 pm
2021-05-03T19:00:00-04:00
2021-05-03T21:00:00-04:00
Contact:
Richmond Hill Group of Artists
905 770 7449
Painting the Pandemic Experience with Grethe Jensen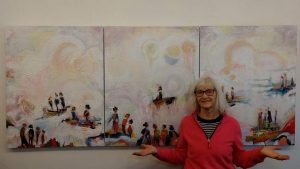 Virtual Demo Evening
Monday, May 3 – 7:00 pm to 9:00 pm
The times that we are living through will feature in history; COVID will be written about and talked about for years to come. We have all been impacted. How is your pandemic experience influencing your artwork? Are your emotions and feelings running high? Are you expressing them in your artwork?
In this presentation Grethe Jensen will show you her Pandemic painting story. Expressing feelings, emotions, the very essence of being, has always been the core of her artwork, and the heightened levels of "everything" during the past year has left her feeling that there is much that needs to be said – and expressed – in the studio. She will talk about her inspirations, processes, and tools while sharing her artwork with you.
Teaching and learning has also changed in the past year. Using video and sound technology, along with the connectivity provided by ZOOM and the internet, she has continued to foster creative development in her students. Hear how the pandemic changed her approach to teaching, and how technology has enabled ongoing sharing and connection among her students.
Grethe Jensen is a Toronto based artist and arts educator.