When:
March 7, 2022 @ 7:00 pm – 9:00 pm
2022-03-07T19:00:00-05:00
2022-03-07T21:00:00-05:00
Expressive Portrait and Figure in Watercolour with Instructor Atanur Dogan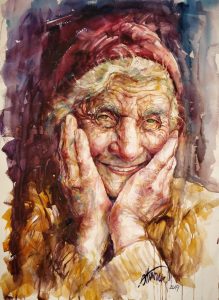 Virtual Demo Evening – Monday, March 7 – 7:00 pm to 9:00 pm
Virtual Workshop – Sunday, March 27 – 10:00 am to 4:00 pm (with one hour break for lunch)
Discover the spontaneity so unique to watercolour and paint colourful, expressive portraits and figures.
Artist/instructor Atanur will teach you valuable watercolour concepts and techniques to capture movement, gesture and the spirit of your subject as you paint from photographic reference. Learn how light affects the temperature of colours and values, and how to use the transparency of this medium to allow the light of the paper to come through. Deemed one of five best portrait artists in the world by the Portrait Society of Canada, Atanur will guide you to create vivacious, vibrant paintings in stunning colour
Demonstrations lots of individual assistance and critiques. Workshop best suited for beginners with some experience to intermediate.
If you wish you may bring a sketched out portrait to allow for more painting time.
About Atanur Dogan
Atanur is a watercolour artist with Turkish/Canadian dual nationality. A graduated of Dokuz Eylul University in Turkey, he is best known for his portraits and figures and distinctive painting skill. His forceful brush strokes evoke the life and tribulations of his subjects. He has mastered the difficult medium of watercolour, utilizing contrasts in colour and depth to create striking effects. He enjoys painting people of different ethnicities, with a focus on their faces and body language and what these express. He has participated in more than 200 exhibitions worldwide and teaches workshops around the globe. In 2004 he hosted an international exhibition entitled " Peace Through Art ", and then established the International Watercolor Society in 2012. In just 10 years, International Watercolor Society has become one of the most active art societies in the world with 110 country branches. Atanur and his team also opened IWS galleries, IWS Educational Centres, IWS Research Centres and have published an IWS International Magazine. Every year the society country branches organizes international watercolour festivals, exhibitions and workshops. Atanur travels to every country supporting each IWS activity. His goal is to make watercolour one of the world's most popular painting techniques.
Read about Atanur Dogan
Price: $60 members, $70 non-members