When:
June 8, 2022 @ 5:45 pm – 7:45 pm
2022-06-08T17:45:00-04:00
2022-06-08T19:45:00-04:00
Where:
Mill Pond Gallery
314 Mill St
Richmond Hill, ON L4C 4B5
Canada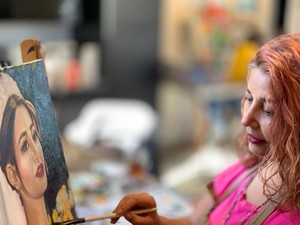 Time – 5:45 pm to 7:45 pm
Cost – $40 per session (supplies not included)
To register of for more information please contact Flora directly
Email: flor.bakhtiari@gmail.com
Phone or Text: 416 880- 0143
There are some essential questions when you start your art work as an artist:
Why am I creating this work? What inspires me? What do I have to say? What do I love about Art? What do I need to learn to express my idea?
The answers to the questions above are what you will find through Flora's painting classes. She teaches you how to experience different materials to grow your creativity, how to take risks to invent your style, how to break rules, making mistakes and having fun, how to feel fulfill as an artist. You will have an exploration of art by using different mediums, styles, techniques, drawing & painting.
Flora teaches oil, acrylic, watercolor and colored pencils for beginners and intermediate students. In her classes you will learn all about colors' theory, focusing on how to make a vast variation of colors' combination, and art fundamentals. She teaches how to paint different kind of flowers and trees fast and easy by using Alla prima technique etc…
Topics cover in adult class:
1- Art fundamentals, basic drawing
2- Color theory, practicing mixing colors
3- Practicing different techniques with pallet knife and various brushes
4- Painting from a reference (a photo or still life or nature)