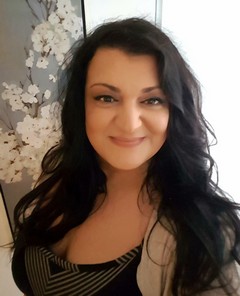 Theodora originally from Salt Lake City, Utah, USA ~ now resides in Toronto, Ontario, Canada.
Always intrigued by the depth of emotion & the stories in one's eyes…. the inner workings, the life it has endured & all it holds beneath the skin. Whether it be a person, or an animal… each has an individual unique expression & personality ~ that is what Theodora strives to capture in her portraits.
Her work primarily runs along the line of Realism, however in recent years she has delved into the Abstract Expressionism style as well. Purely based on emotion, the titles of these intuitive pieces are just as equally important to the artwork as is the visual aspect. Both styles are reflected in her gallery.
Theodora is an active member of both the Visual Arts Mississauga at Riverwood Gallery, and the Richmond Hill Group of Artists.
Contact
artisttheodora@gmail.com
www.artbytheodora.com