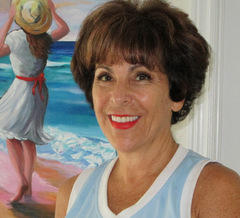 Born in Montreal, Rosie majored in art and psychology at McGill University. In 1978 she moved to Toronto to pursue a career in travel, which was her other passion. Her goal then, was to see the world before she turned 30.
Now, painting has become her obsession. She has taken many workshops and classes, both here and in Florida, to improve her techniques, to enable her to create work that she is really proud of. Each piece holds a special place in her heart because of the pure joy of its creation. The art of painting and the blending of colors have a soothing, yet stimulating effect on the mind and soul. Her main medium is acrylic, favoring realism. She has been inspired from photos taken on her travels, the varying seasons and observing children at the beach.
She has participated in shows at restaurants, other arts groups, and looks forward to her upcoming 2018 shows in Richmond Hill.
Contact
shermanrosie@hotmail.com