When:
May 13, 2021 @ 6:30 pm – 9:30 pm
2021-05-13T18:30:00-04:00
2021-05-13T21:30:00-04:00
Contact:
Richmond Hill Group of Artists
905 770 7449
John David Anderson – Virtual Workshop Series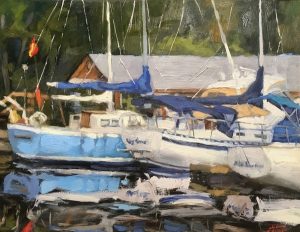 Thursday, May 6 – 6:30 pm to 9:30 pm
Thursday, May 13 – 6:30 pm to 9:30 pm
Thursday, May 20 – 6:30 pm to 9:30 pm
Thursday, May 27 – 6:30 pm to 9:30 pm
Week #1- Flowers
Flowers in the landscape are often a colour relief, and shape relief as they are different from a flat plain or a large vertical. They represent an interruption, and thereby contrast. Building elements of contrast into a piece will bring the viewer in, and will offer them a treat. Flowers do that so well. Through two 11x 14 studies we will explore two approaches to flower in the landscape.
Week #2- Reflections
They always present a challenge to a painter. If they look too "perfect"; they become a one note wonder, and have only temporary value as a point of interest. With an impressionist approach the nature and character of reflections can add significantly to a piece without overpowering the rest of the painting. We will build the source of the reflections first and introduce the reflections to complete the composition.
Week #3 – Waterfalls/Moving Water
How to see water and water in motion is a great challenge to painting. Through two exercises we will build a moving water scene and a waterfalls scene on 9 x 12 or 11 x 14 canvases. You will learn to see how the water is constructed and how to capture the motion through patterns, colours, and values.
Week #4- How to abstract a landscape
All painting is an abstraction from reality. We are building a representation of 3 dimensionality and depth in a canvas that is flat through shapes, values, and colours. Further abstraction is very attainable through the analysis of the big shapes, value, edge and colour relationships.
We will take a look at this process on a 16 x 20. To get a good idea of the end possibilities look-up Brian Rutenberg, a New York based painter of enormous, colour-filled, abstracted landscapes.
More about John David Anderson
Price: $100.00 members, and $110.00 non members