When:
April 24, 2021 @ 1:00 pm – 5:00 pm
2021-04-24T13:00:00-04:00
2021-04-24T17:00:00-04:00
Painting Colourful Foliage – Dominik Modlinski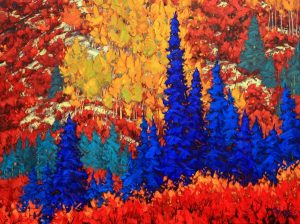 Virtual 2 Day Workshop
Saturday, April 24 – 1:00 pm to 5:00 pm (EST)
Sunday, April 25 – 1:00 pm to 5:00 pm (EST)
Ever wondered how to tackle a foliage that is colourful and dynamic in your painting? In this workshop we will explore a variety of painting applications that successfully captures natural form both in dynamic brushwork and intelligent colour harmonies.
Regardless of the season, adding foliage effects can take your landscape paintings to the next level of success. And, when it comes to seasonal foliage, we are all inspired by it. Either entranced by the lively greens of spring and summer foliage as well with the rich oranges, golds and reds of fall and early winter.
Although, perfecting the shapes and colors of the seasonal foliage you are trying to portray can be daunting, but in this workshop, Dominik will demonstrate step-by-step approach how to create crisp and lush foliage in your landscape.
Read More About Dominik Modlinski
Price: $100.00 member, $120.00 non-members
Any questions? Contact Mary – maryespinosaart@gmail.com