When:
November 14, 2021 @ 10:00 am – 1:00 pm
2021-11-14T10:00:00-05:00
2021-11-14T13:00:00-05:00
Where:
Mill Pond Gallery
314 Mill St
Richmond Hill, ON L4C 4B5
Canada

Contact:
Richmond Hill Group of Artists
905 770 7449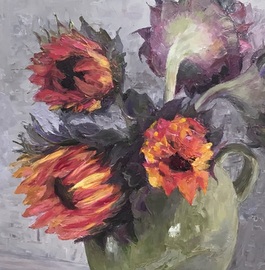 OIL – Painting, Beginners/Intermediate
10:00 am – 1:00 pm
Whether painting in oil or acrylic some things are a must. We will talk about good composition, drawing, perspective
(both linear & colour) and form pattern (values) We will look at what works & where we can make improvements.
I always strive to help people really see and understand what their looking at so they produce a competent painting.
I coach & help people to further develop their individual style , whether more realistic or abstract.
8 weeks – $325
Supply List provided upon registration
Missed class can be made up on an alternate day ( if space is available) or virtually
All classes will be held virtually if another lockdown occursInquire about Virtual classes, they are also an option
Contact Olga for additional information, cost and to register.
olgasenyk@gmail.com
(647) 393-6586
Please note – Class sizes will be limited to 8 students, masks must be worn and physical distancing is required.
The Richmond Hill Group of Artists has implemented Covid 19 protocols at the Mill Pond Gallery that adhere to Provincial Regulations and Public Health recommendations. The RHGA will not assume any liability in the event that anyone using the facility becomes sick.